In Germany, there are around 35,400 buses currently in use for local public transport, consuming roughly 730 million litres of diesel each year.
CM Fluids heralds the beginning of a new era:
We're moving mobility convert instead of buying new!
Instead of costly new purchases, you can achieve your sustainability targets with a retrofit. Working with our partners, we equip existing vehicles such as buses with our
CMF drive generator-electric drive (GEV) and overhaul them, so that you can count on another 12 years of service from your renovated vehicle fleet.
The CMF drive concept was developed by the Fraunhofer Institute, and brought to market by CM Fluids. CMF drive is an electric drive with its own charging station, the range of a modern diesel car and the consumption of an economical small car.
Our range: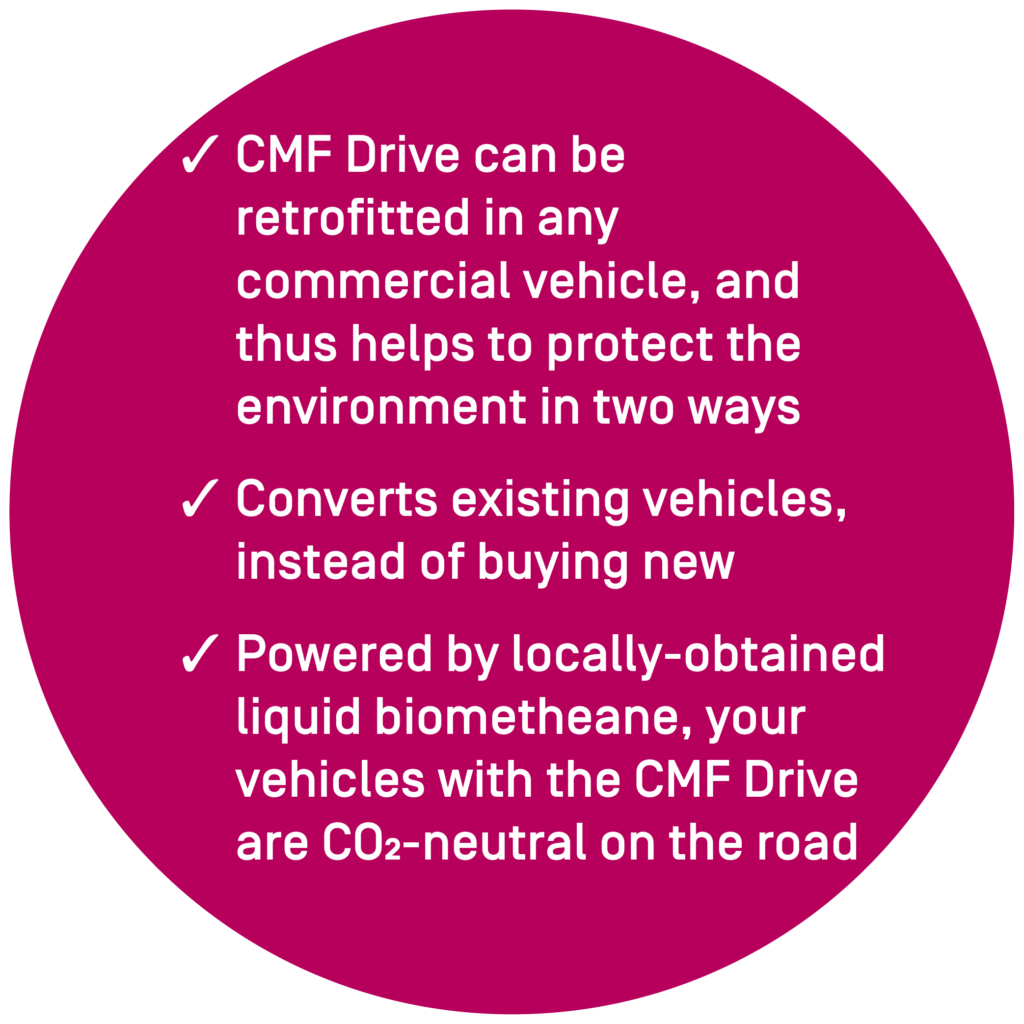 The advantages of CMF drive at a glance
With our patented generator-electric drive (GEV), we combine the long range of a combustion engine with the advantages of an electric drive. This combination is ideal for municipal vehicles.
The electric drive is supplied with power from a small buffer battery. It is only about one tenth of the size of a "normal" electric bus battery, as it is charged on-the-go by a charging station integrated in the vehicle. The braking energy generated during driving can be stored and reused by the buffer battery. This concept is particularly suitable for city buses that start and stop frequently, and the energy can be used optimally.
The buffer battery is charged as required by a small motor-generator unit. The vehicle's range is therefore limited only by the fuel tank size.
1 tank filling
800 km range
up to 50 % less noise
than diesel buses
up to 95 % less particulate
matter than diesel buses
up to 20 % lower total cost
of ownership (TCO) than diesel buses
Clean Vehicle
Directive ready
Which vehicles are suitable for CMF drive?
Our generator-electric drive is also useful for many other vehicles, such as those used by transport companies with a high proportion of short distance journeys.
To discover the benefits CMF drive can give you, we offer to record a driving profile at your location. We then use this to simulate how our drive would perform, and which CMF drive advantages would come into play.
Our CO2 balance is recalculated and evaluated annually. You can find the current evaluation of the greenhouse gas footprint of the CM Fluids concept here.
We would be happy to advise you on the CO2-neutral conversion of your vehicle fleet.